IT Planning & Network System Analysis  Managed IT  Service Desk  On-Call PC Repair & Computer Support
On-Site IT Services  Cabling Services  IT Equipment Rentals
IT Services
Decisive IT services can save you uptime. Hi-Tech's skilled team works with you to provide dependable tech services. From strategic IT planning and network analysis to last-minute fixes that keep your team working, let Hi-Tech solve your IT service needs.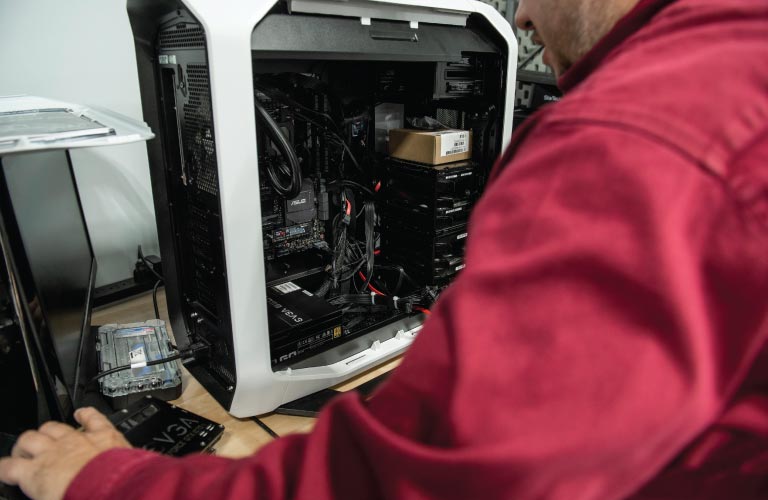 IT Planning & Network System Analysis
Planning protects productivity. Intelligent IT design defends against software and equipment failure, security risks, and inefficient or outdated technology. With a customized IT plan, every business can increase productivity and reduce threats.
Our experienced technicians are well-versed in the restaurant, hotel, oilfield, and other common Alberta industries, including small and entrepreneurial companies. We focus first on optimizing for your needs, creating a strategy to fit your specific industry, size, and company.
We also go beyond IT planning, analyzing your network system to guarantee high-efficiency and performance at all times. By optimizing your network, we can increase productivity to benefit your company's overall workflow.
With IT planning and system analysis come a need to deeply understand both your business and its needs. Using our industry knowledge, we discover where your company is at risk and structure a secure plan to protect your productive time.
An on-site assessment of your network and IT system provides us with the information we need to understand your business. From there, we devise realistic, functional strategies to optimize your workflow, including:
Auditing your network, equipment and software
Evaluate your security footprint & risk for downtime
Mapping of your current infrastructure
Creating plans to upgrade & modernize systems & software
Design of fresh new networks and systems
Planning for new-built offices & revamping existing ones
Master plans for multiple divisions / locations / departments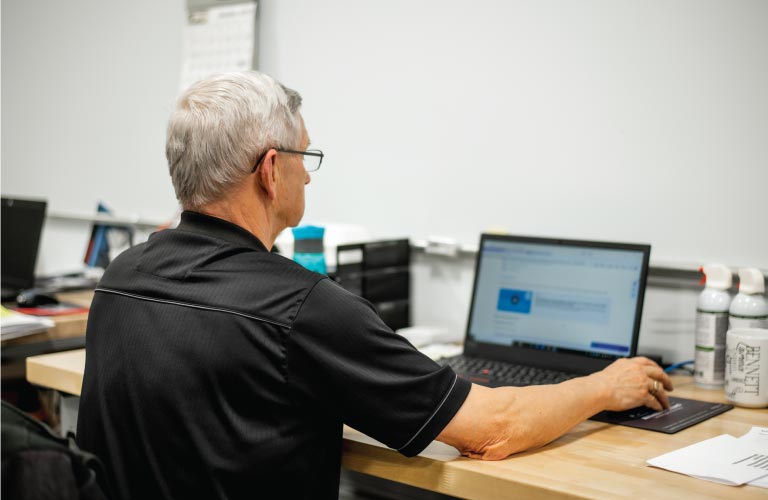 Customized Managed IT
Every business is different. A one-size-fits-all solution doesn't always fit your business. Choosing a managed IT solution customized to your business gives you peace of mind in knowing that all your specific needs are handled.
Let our team design a customized managed IT solutions to fit your business. With various management levels available, we provide experienced industry-specific recommendations. These custom solutions ease all IT concerns, letting you focus on your job and your business.
Flexible to fit you, our customized managed IT solution can involve scheduled, weekly visits or can cover a specific service or piece of equipment.
Start a conversation with us today to begin a customized managed IT plan to fit your needs. And don't worry about the technical parts of it – we'll take care of that.
Service Desk
The smallest questions can cause downtime. Answering questions about lost passwords or how to set up an email program is not a useful part of your day.
For every tech question your team has – big, small, or just simply confusing – Hi-Tech has an answer. As your in-house help desk, we alleviate all these time-consuming queries and offer easy solutions for every IT problem.
This saves your team more than just time and money: it saves them from a huge headache.
On-Call PC Repair & Computer Support
Technology saves you time – until it breaks, crashes, or dies. When that happens, the quickest way to keep your team operational is to call Hi-Tech.
Our on-call service prioritizes your time, limiting downtime with responsive service. Your team can spend more time working on their projects, rather than trying to learn tech fixes.
For simple fixes, we offer full computer support over-the-phone or in-person to get your technology operational faster. Our diligent team will walk you through the support process, working quickly to get your business up and running as quickly as possible.
We can easily travel to any location – including Calgary, Kamloops, and other regions – from one of our offices in Grande Prairie, Dawson Creek, Peace River, and La Crete as well to provide more directive support.
Need our help now? Give us a call toll-free at 1-800-491-4434 during our office hours or at 1-877-876-4137 for after-hour support.
On-Site IT Services
Certain problems require hands-on solutions. We're prepared to travel to your workplace to guarantee your equipment and technology are fully functional and efficient. This includes desktop computers, laptops, servers, displays, and all your other IT equipment.
Our on-site IT support is often incorporated into our managed IT packages. For single fixes and solutions, we also offer one-time support calls from our offices in Grande Prairie, Dawson Creek, and Peace River to all the surrounding areas.
Our services extend beyond these regions and include Calgary, Kamloops, and other locations. Give us a call today to learn more.
Structured Cabling Services
Is there a wire jungle in your office closet? Our capable staff is trained in cable structuring and can optimize your wiring system to align with building and fire codes.
Tidy, organized cables – especially in those dreaded server closets – also protect your time and energy. Neat networks are easier to maintain, test, and repair. Well-structured cabling also translates to high-quality system performance, tested and certified by our expert staff.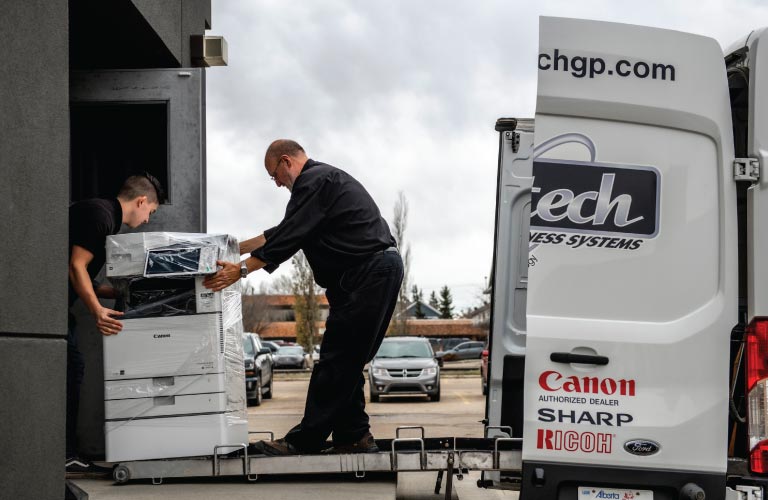 IT Equipment Rentals
Long-term commitments don't always make sense. When they don't, we provide short-term rentals for our laptops, projectors, copiers, printers, and faxes. We keep all our equipment up-to-date and can easily advise you on the finest equipment solution to fit your needs.
Find more information on our equipment rentals or call us to discuss your options.