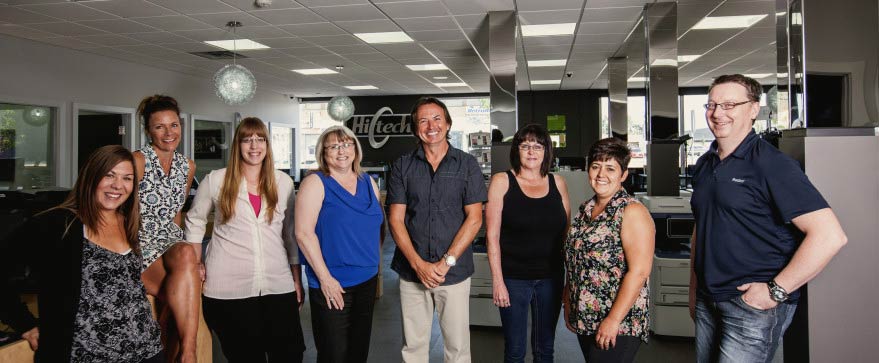 Hi-Tech isn't just a business. It's a family. And like any family, what matters most is our relationships. From the way we hire and retain our staff, to how we treat our customers, suppliers and community - once you're part of the Hi-Tech family, you're treated like family. And that's why our employees, suppliers and customers stay with us for as long as they do.
Did you know?
Hi-Tech was established in 1987 in Grande Prairie, AB
Hi-Tech employs over 50 local people.
Our average employee has been with us for 11 years.
Hi-Tech received the Employer of Choice Award from the Grande Prairie & District Chamber of Commerce in 2013 and 2017.
We regularly give back to our community through monetary contributions and volunteering.
Our Mission
Hi-Tech grows with the industry. We are committed to providing and supporting innovative, practical and top-quality business solutions that save time and improve the way people conduct business. Our first responsibility is to the customer who uses our products and services. Our passion is relationships. In carrying out our day-to-day operations we strive to:
Treat our employees with the utmost respect and consideration
Follow the philosophy that our customers are our partners
Be considered as an active member in our community.
Through a long term commitment to this mission, we are known as the company that CARES. Our customers, vendors and employees view Hi-Tech as a company that offers quality, benefits, understanding, knowledge and results.
Our previous photocopy service provider was not meeting our needs, so we entered into a maintenance contract for our copiers with Hi-Tech. Even though our machines were not models that Hi-Tech carried, they provided fast and reliable service for them at schools spread over a 250km radius. The service was excellent. When our old leases came up, we chose Hi-Tech as our supplier. Brent Andersen, our Sales Consultant, and Butch Portsmouth, the Maintenance Manager, have provided us with outstanding service, an ability to understand the needs of our individual schools, and have the prerequisite knowledge to offer us informed advice.
Paul Burrows
Assistant Superintendent of Finance
High Prairie School Division No. 48
Our office recently acquired a Toshiba E352 copier from Hi-Tech. Since its arrival in our office, it has more than exceeded our expectations. Service has been great, and when the copier was delivered, a consultant was here to show us how to  use the machine. To sum it up, Hi-Tech and the E352 are great!
Karen Way
Administrative Assistant, Canetic Resources Inc.
Recently Focus purchased two Ricoh copiers and a fax machine from Hi-Tech. Brent spent time with us, asked very relevant questions pertaining to our business needs and went out of their way to make very valid suggestions. The customer service we have received to date from the Hi-Tech team has been exceptional, and it's very reassuring to know that we are totally taken care of.
Shirley Juneau
Senior Administrative Assistant, FOCUS Engineering
In obtaining printing equipment for our marketing agency, Hi-Tech wasn't just responsive and helpful, they provided a great deal of value. The solution they came up with exceeded our expectations in every way—not just in terms of features, but timeline and budget too.  The service didn't stop at that sale though. I swear, they're waiting outside of our door for us to call sometimes.
Richard Podsada
Managing Partner, nine10 Incorporated